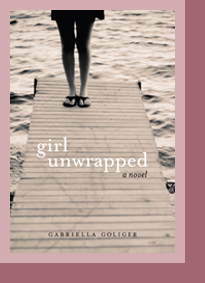 Award-winning author Gabriella Goliger and Arsenal Pulp Press are pleased to announce that her new novel, Girl Unwrapped, is now available at local bookstores or directly from the publisher. Set in 1960s Montreal, it's the story of a young woman caught between her Holocaust-scarred parents' desperate need for family regeneration and her own awakening to taboo desires.
Meet Gabriella at some of her upcoming readings. See the Events page for more information.
To schedule a reading or guest appearance at your book club, contact gabriella@gabriellagoliger.com.
---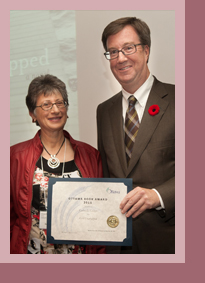 Gabriella Goliger wins Ottawa Book Award (Oct 2011)
Gabriella Goliger has won the Ottawa Book Award for Fiction for her novel Girl Unwrapped.

Of her novel, the jury said: "A finely detailed and richly textured novel, Girl Unwrapped probes the coming of age of Toni Goldblatt in post-War Montreal, from the 1950s through to the 1970s. An only child and an outsider, Toni comes to terms with her lesbianism, then struggles to tell her mother and find a peer group to which she belongs. Girl Unwrapped is a poignant, compassionate, and frequently humourous, novel that captures the contradictions and the perseverance of the human heart."